---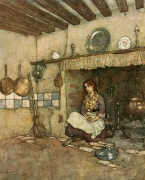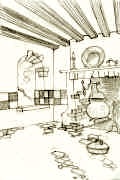 Dramatic Art 125(Scene Painting)- Fall Quarter 2007
Instructor: Tom Richardson
tompaint@yahoo.com
415-516-7416
Friday Noon - 4 PM

Class Objective The class is a project based class introducing techniques of scenic painting. Each project is designed to be started in one class and completed by the next class as we will be building on techniques from class to class.

Students are required to prepare their own paint and be responsible for materials and brushes. The scene shops are in constant use so students are responsible for storing their panels in a pre-arranged area, and responsible for making sure all buckets and brushes are clean.

Class meets once a week to introduce a project and techniques.

You are expected to spend time outside of class either working on your panel or by working on one of the several productions scheduled. An option will be to begin work on those productions in class so we can work together on them.

This page, which is linked to the rest of the course work is on the web at: http://scenicartist.20m.com/Scene_Painting.html

Click on the title of each assignment to see detailed information, including the illustrations we will use to complete the assignment.

Book Recommendations for Dramatic Art 125(Scene Painting)

Introduction to Scenic Painting
Scene Painting as collaboration, shop etiquette, what's involved, tools of the trade, and prime the canvas for subsequent use.

Paint Practice
Color Wheel - Shapes in space, Sphere, Cone, Cylinder, Make a value scale, Practice painting 3-Dimensional Shapes using a grey scale, or colors and shades and tints.

Perspective - Laying Out a Canvas.
Introduction to the rules of perspective, tricks to use for enlarging a drawing for a backdrop without using a computer or projection equipment.

Sky - Clouds - Foliage
Prepare by finishing priming your panel, researching cloud images and foliage. Multi-color lay-in, wet blend, scumbling techniques. Discussion of interaction of color. Paint a sky gradation, wet blend clouds over it. Add a simple wet blend of foliage, with an overlay of sponged or printed leaves for detail.

Texture - Stucco - Bricks - Stones -Wood Grain.
Demonstration of other texture techniques, foam sponges, stencils, spattering, brooms, mops, feather dusters, ragging. Techniques of wood graining.

Marble - Painting with Wet Blends.
Using wet blends, water and other clear media. How to paint marble.

Rendering Shapes.
Using what we learned about rendering shapes, and textures and wet blends to paint architectural details and other details on the panel.

Rendering Shapes.
Another rendering exercise, and more time to finish details on the panel.

Shadows - Creating Space with washes - High Lights - Cut Lines.
The final touches to you panel, the things that make it come alive in three dimensions or make it work on stage.

Special Paint Techniques for Realism in Film and Video - Finish your panel
Demonstration of specialty techniques used in making movies and television. Plus some tricks if you are ever asked to do standby painting. Here's a hint, don't use paint, it usually doesn't dry fast enough. Review of techniques, questions. If you have thought of a technique we haven't covered this is the time to discuss it.

Art Direction Wiki The Art Direction Wiki is a free online repository of information relating to new and classic technologies and methodologies relevant to the art of film design. This entire site is primarily maintained by the membership of the Art Directors Guild, Local 800, but everyone is encouraged to explore, discuss and learn about the world of progressive film design.
http://www.wiki.artdirectors.org

Community Based Seach Engine Search for Scenic Art related materials, the software learns from the searches, and searchers can recommend sites.
http://scenicartist.20m.com/Search_Engine.html

Art Directors Guild Local 800 IATSE Local 800 is a local union of the International Alliance of Theatrical and Stage Employees (IATSE). The "IA," as it is commonly known, is an international union, which exclusively represents employees in the entertainment industry, spanning the United States and Canada with more than 104,000 members. Local 800 is comprised of the Art Directors Guild & Scenic, Title and Graphic Artists.
http://artdirectors.org

I.A.T.S.E. and Basic Crafts Directory Los Angeles Movie Unions From the Contract Services Administration Trust Fund.
http://www.csatf.org/iadirect.shtml

I.A.T.S.E. LOCAL 16 San Francisco Stagehands - International Alliance of Theatrical Stage Employees Moving Picture Technicians Artists and Allied Crafts of the United States Its Territories and Canada.
http://local16.com

Left to right, Drawing for the previous class project, photo montage of textures used as references to paint the project, 5 examples of completed work by students in the previous class.